We have just made BB a downstairs nursery and converted the conservatory into her own little playroom. I would love to tell you what we have resembles something like this: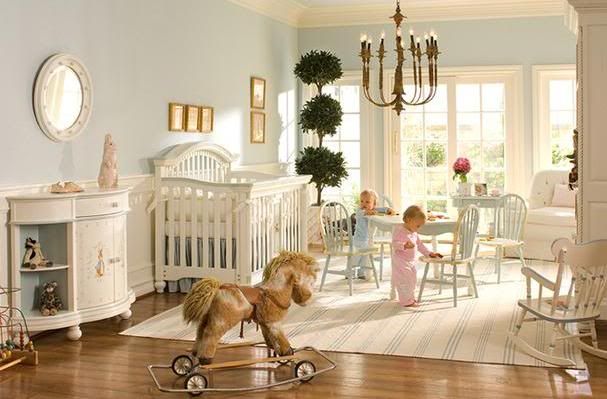 I love the high ceilings and old fashioned classic feel. However in reality what we have is a colourful display of foam alphabet mats and Ikea storage. Don't get me wrong we are very lucky but it is the human condition to always want more and well as it happens we are thinking of selling up soon and house hunting...exciting!
I have always loved the old fashioned wooden toys. There is something about them that exudes quality and class. When we found out we were expecting BB my mum purchased an absolutely gorgeous second hand Rocking Horse. It is everything a rocking horse should be, old, grand and looks stunning in Grams and Grandpa's house! I am looking forward to passing it down the generations.
It is this that first attracted me to John Crane Toys. Their
Pin Furniture
and
Branching Out
range are made from Rubber wood, which is harvested from replenishable forests when the Rubber trees have finally reached the end of their natural cycle.
BB was given these Stack-Up Blocks to review
She loves these. They are quite high when stacked (104cm!) but if your toddler is anything like BB then the bigger the better! She loved crashing these down and because they are wooden they are solid, no chips yet and they have been given quite a thrashing!
Another great things about these is that they nest in each other for easy storage.
Here are some pics, you can click them to enlarge...
John Crane Toys are available from lots of retailers, John Lewis, Amazon and I think I spotted them in the new Next Catalogue too! They even have a blog so be sure to go check them out
here
When Baby Belle was born we were also given a whole range of
Tolo Toys
for her. We got so much use out of these and I have now boxed them up, ready, should another little one come along in the future :-) Even the boxes were lovely and had that old classic look about them that exudes quality
The gorgeous boxes all the baby items came in
The big items even come with drawstring bags so you can take them places with you
.
This activity arch was BB's favourite for the whole first year of her life and kept her
amused at many a nappy change!